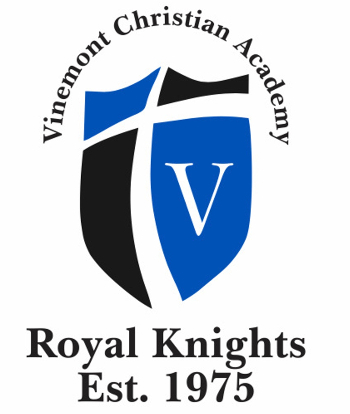 Vinemont Christian Academy
We want our students to question what they see, hear, and read. Our classrooms are energetic learning centers where everyone is empowered to delve deeper.
We know that beyond the lessons that we teach, our students are children who are discovering the world. To us, sensitivity is a representation of strength.
We encourage our students and educators to show a mutual respect to one another within the school. Everyone should be afforded manners and kindness.
We believe that every child should have the confidence to know who they are and what inspires them. Every student is treated as an individual.
We pride ourselves on having an incredibly creative set of young learners, and we give every child the space to realize where they might be headed.
We allow our students to find lessons in failure, to try things that make them work a little bit harder, and to appreciate that it's possible to bounce back.


"Call unto me, and I will answer thee, and show thee great and mighty things, which thou knowest not." Jeremiah 33:3
Soul's Harbor Ministries, which consist of Soul's Harbor Church (SHC), Vinemont Christian Academy (VCA), Souls Harbor Daycare (SHD), and are the result of a vision God gave to a group of people, led by Bro. Dennis Reeves, in 1973 to found a work that could equip individuals for the work of God from infancy to the end of their life. In 1974 the church was begun and grew as the congregation set out to accomplish the task that God had set before them.
In the fall of 1975 Vinemont Christian Academy began its first year of school. Students have continued to learn at V.C.A. every year since then. The attendance has varied over the years, but God has always seen fit to ensure that the needs have been provided. Most of the years that V.C.A. has been in operation, it has received Model Status from its curriculum provider, Accelerated Christian Education, which is the highest honor that can be awarded for outstanding performance in academic standards and achievement. In the fall of 1976, the daycare was opened to provide childcare services with a loving, Christian environment and is still providing that same quality care today.
We, as the staff of Vinemont Christian Academy, are still striving to fulfill the God-given call of the original founders to meet each student's needs in four basic areas. The first area in which we strive to train is spiritual. Our primary desire is for every student to have a personal relationship with Jesus Christ. Once they have developed that relationship we want them to be equipped to grow in their knowledge of Him. The second area in which we desire each student to be equipped is academically. We believe that we are providing a complete education that can be provided for our students. Our third objective is to train our students physically. Each person has a specific task that God wants them to complete and we must be physically capable of completing it. God also desires for His people to live healthy lives, and that requires some physical training. Our last focus area is to develop our students socially. We need to be able to relate and communicate to people wherever we may be. We attempt to provide many opportunities for our students to come in contact with a variety of people so that they are able to act comfortably in whatever capacity God calls them to. God-allowing, we desire to provide a complete and quality education for every student.
Our goal is to develop students who are creative, courageous, respectful, and born-again.